The final part of this first leg of the journey from London took me down the Tohoku coast of Japan – the region devastated by the huge earthquake and tsunami which rocked the country in March 2011. Having finished the journeying for the winter, I returned to the fishing town of Ishinomaki to volunteer for a week with the wonderful group 'It's Not Just Mud'. Humbled and moved by what I saw and now understood a little bit better, and having heard some of the stories from residents who remained and were now trying to rebuild their lives, I made this little video about my time there and also a slideshow.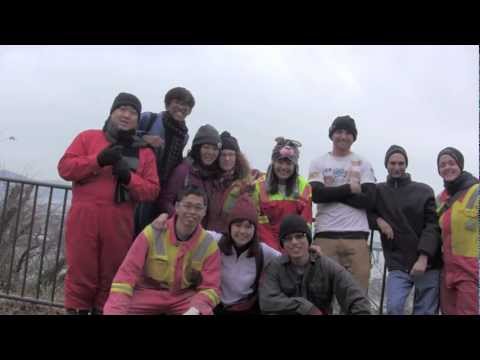 It still makes me cry to watch it, but it also makes me smile. People tell me that what I do inspires them – that is very kind and I am glad to be of use. But if you would like to see some real inspiration and courage then watch this piece by the BBC  about INJM founder Jamie and listen to the story of Matsumura-san in my video. That, my friends, is courage.
Lessons so far
My journey so far has shown me all sorts of things and taught me some wonderful lessons about life and what it is to be human. What home means to different people. What it is to risk failure and make a leap into the unknown. What it is to be succeed. What it is to be welcomed by strangers and to share their food and home and lives with them as though you were family.What it is to lose your livelihood, your family, your world. What it is to struggle. To survive.  What it is to hope. And what it is to help.
Journeys
It has shown me that we are all on journeys, wherever we are going and whoever we are  –  bikes or no bikes, internatonal or not, emotional or theoretical, this way or that. Static or errant, little or large, wherever we are going and for whatever reasons, we are all one. We are as different and varied as the flowers of spring, of the flags of the world , of the seasons and the weathers  – but we will all flounder sometimes, be it on the road or in our heads and hearts. We all get tired and face challenges. And we all need refreshing from time to time. And we all need support and encouragement and reassurance and hugs. Most of all, I have learned that we all need each other.
Here's to all of that and all of our journeys as we bound or plod or meander or wheel or think our way into a whole new year.  I hope it's a good one.
All very best from the east,
Sarah
P.S.
P.S: I am keen to use royalty free music for future videos – if you are keen for me to use your work then please drop me a line
P.P.S: Thanks to everyone who donated to the Winter Clothing Appeal. The money is being sent over right about now and will be used to buy thermal clothing for needy residents in Ishinomaki.
P.P.P.S: I am looking for a good link in to the following companies, preferably the Press Rooms: Canon, Sandisk, Transcend (of the SD cards), Air Canada, Aeroflot. Anyone?
P.P.P.P.S: With the return to school imminent or recently thrust upon many youngsters, I shall be restarting the Skype and live calls into classrooms. Please spread the word and drop us a line if you would like me to call your classroom.