It is stormy outside. The wind has howled and the rain has poured since yesterday evening, really cranking up through the wee hours this morning. I popped down to Choshi Marina to check on Happy Socks ahead of a visit by the Customs Officer. The Coast Guard had already called off their inspection on account of bad weather. Needless to say, there was no inspection by Customs because poor Happy Socks was being boshed about so much on her moorings and the rain and wind so strong that we might not all have come back. I am always in awe of the power of nature – gusts knocking things over and rain sounding like bullets – and the dynamism of it all.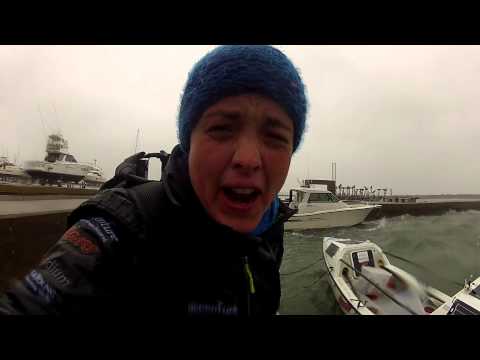 The other day when I had some photos taken by visiting photographer  James Sebright, it wasn't quite a millpond but it was fairly jolly calm.
One of my Japanese friends Kay told me that these storms are called 'Bomb low pressures'. I  can see why – it is  pretty gnarly at the moment. Yachts were being rocked right over at jaunty angles, tugging at their lines or leaning right over the pontoons, and the palms were being thoroughly blasted.  It was like a very wet wind tunnel on full throttle.
For me now the focus is on keeping myself as focussed as possible, given that my To Do List for Happy Socks has just about run itself out. No window for departure just yet – so wait, we shall.
All best from Choshi x