For over a year now I have been pondering a question. A very complex, challenging and scratch-your-head sort of question. My team have pondered too, and now it is time to find the answer.
Ladies and Gentlemen, I give you the Far Eastern Question.
One of the crucial phases in planning my L2L planetary loop was the North Pacific row from Asia to the Americas. We looked at China and rowing out of Shanghai and quickly moved on:  too much traffic,  dodgy currents, islands in the way and extra miles. Japan was the favourite for starting the row East, but how to get from mainland Asia? Hmmm. An interesting question. One we dubbed The Far Eastern Queston or the FEQ.
In a particular naive moment of tracing lines on maps with fingers I drew the simplest line through Korea with a hop across to Japan before realizing what I was doing. A leap from South Korea to Japan would be easy(ish) but since North Korea is out of bounds that would require a much bigger crossing from China to South Korea. And so our attention fell to Sakhalin, a remote island off the East coast of Russia. The archipelago of Kamchatka lies to the North and Japan sits just thirty miles or so to the South. On paper it looks like a quick nip, hopscotching by kayak from mainland Russia to Sakhalin and then down to Hokkaido and onto Honshyu, cycling the green bits along the way.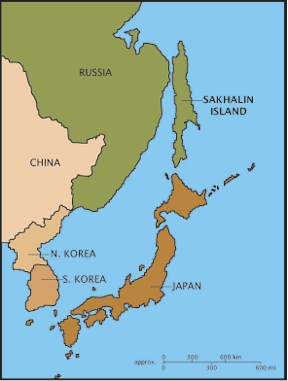 In reality, this leg is the most complex of the entire expedition. Logistically it has been a nightmare and, therefore, very expensive. It is remote, has little or no infrastructure in places, tracks rather than decent roads and some pretty extreme weather. Physically it will be grueling; essentially a four (or maybe six) week biathlon with little time for transitioning. Long hours paddling, negotiating strong currents and tides for which we have little information; one of our Sakhalin charts, a 1940's  number, says "Not to be used for navigation".
I am already pretty tired after five months on the road and I haven't paddled since the Channel crossing in April, so I am hoping all my muscles behave. (I had a rib crunched back into place by a masseur yesterday so I hope it plays nicely too). Another factor is the weather – we need to get to Japan before it all freezes over.
Because of the complexity and the difficulty of this leg I have been joined by two of my team from the UK – Tim is in charge of the logistics and Justine will be kayaking with me and filming.
I left Khabarovsk this morning for the final pedal North to the coast and Tim and Justine will follow on in a couple of days. Once at the coast, we paddle across and turn right for Japan, hoping to arrive on Japan's largest island Honshyu four to six weeks later. It is going to be an intense ride, this I promise.
Simple on paper, huge in reality. I am nervous and I am excited. I know that it will be tough, but I know that it will be brilliant and beautiful too and that the toughest moments will be the richest afterwards. I also know that once I get to Honshyu, we can all relax and I can hibernate for a while.