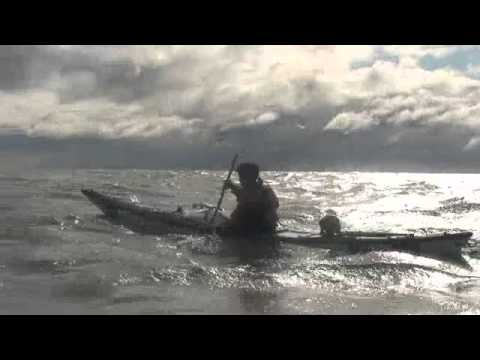 It's nearly 1am  and I am sat in my tent listening to sand being blasted against the walls. I am absolutely zonked. Having cycled thousands of miles across Eurasia I am fit but my body isn't used to paddling. My shoulders feel like cement, my hands are blistered and my back squeals regularly. The transition from Hercules to Nelson has been gruelling for both mind and body, and I am only three days in.  Originally the plan was to cycle further North up the Russian coast to the old fishing village of Lazarev, but after Hercules' bearings disintegrated 150km South at the little town of De Kastri, there was nothing to be done but get in the boat and go for a longer crossing to Sakhalin. Lazarev would have meant a few miles of open water, but the section of the Tatar Strait that Justine and I paddled yesterday was 23 nautical miles, with a few extra tagged on at the beginning. The wind was stronger than forecast (gusting 20knots from NW and N) and roughed the shallow sea up into some really challenging conditions. For the first two hours I was not a happy chicken and it was all I could do to concentrate on staying upright, my mind boggled at being back in a boat (much to my frustration) and my body rebelling painfully. Justine had given me the option to head on up the coast a short way in the hope that conditions would be more favourable the next day but I knew that the landing on the other side at that point would be lots of shallow sand banks and rather messy. Inside  I also knew that some rough stuff would be good practice for the more difficult La Perouse Strait in a couple of weeks. I said that yes, I wanted to go and have a shot at the big crossing. And I am glad I did.
After a really challenging slog and over 8 hours in the boat, we landed on the remote island of Sakhalin. As you can see from the video that Justine has just edited in her tent after today's paddle, my legs weren't very good at all that time sitting down! We are now heading South for another 2 -3 days, depending on the weather (currently a strong headwind).
Exhausted in the tent,
Sarah and Nelson x (and Justine and her currently un-named kayak!)
PS Getting Nelson out to Russia was a gargantuan task, so a huge thank you to the guys at DHL for all their hard work in making it happen.
PPS Some wonderful wildlife out here. Eagles soaring, seals snoozing in the sea or on the sand and brown bears, apparently. No sightings of the latter yet though we did see foot prints in the sand today. Must have been a huge beast.
PPPS Hercules now on Sakhalin too, with Tim. He is en route to a bike shop to have a new bottom bracket fitted after the bearings disintegrated last week
Surf crashes into the beach less than 100 metres away.