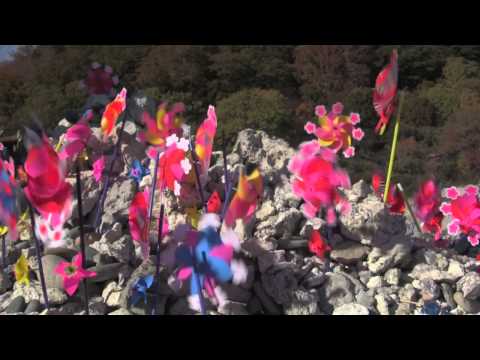 A whole week off the bike and I feel human again. This is reassuring. Hercules and I head out from Mutsu, Aomori this afternoon for the final run south. In contrast to the whole journey so far, now there is no rush. No time pressure. No weather window to worry about. No visa issues. Just me, Herc and three whole weeks to cover the 1400ish kilometres of meandering route that I have roughly sketched out to get us down to Choshi and Tokyo.

The week off the bike has been defined by new friends, lots of eating and sleeping, a luxurious visit to an onsen (hot spa) and a rather bizarre session of electrocution and chiropractic crunching, and hours and hours of catching up on admin. The latter hasn't been a bad thing – it is good to be back in control.

One afternoon I rode up through the hills, all rich in autumn leaf, to the sacred Mt Osorezan. Not only was it a beautiful ride and a tranquil reward for my efforts, but perhaps the most wonderful thing was the headspace – it was so refreshing to be sat on the bike with a clear head, my mind either happily empty or skipping about thoughts and questions voluntarily, rather than feeling overwhelmed as I have done in recent weeks. Oh yes, and fresh legs, too. Not a squeak of lactate or stiffness in sight.

Until next time,
Sarah and Herc x
PS Exciting week – our shiny new Schools HQ will be going live with a library of new educational resources, which we have worked hard on with our partners Digital Explorer.
PPS Next month polar explorer and all round lovely lass Felicity Aston heads down south to traverse Antarctica. Alone. It is set to be a huge expedition and, from what I know of Felicity and her expeditions, I know she will share the stories beautifully and it will be a great follow. http://www.kasperskyonetransantarcticexpedition.com/