Ahoy ahoy!
I wonder where you were for the chimes of midnight on January 1st? I hope you were doing whatever it was that you wanted to be doing and that you were able to look back and forwards in whichever comnbination you prefer. Here's hoping that 2011 be a happy and healthy and adventurous year ahead.
2011 has already charged off at a wild pace for me, with now just around the corner. Things are marching on apace with developments and results all the time and a To Do list as long as long thing. Visas are soon to applied for, we have a new logo, a brand new website is being designed, the new rowing boat is being built and the kayak will soon be ready for her first splash. (The kayak still has no name – ideas on a post card?) I was also very chuffed to be awarded a chunky grant from the Transglobe Expedition Trust – a Trust set up by the legendary Sir Ranulph Fiennes.
My plan had been to start the blogging year 2011 with a round up of my favouirte adventures from 2010 and a post about my training trip to Ireland over the New year, with Hercules (my handsome new bike) and one of my oldest and bestest friends. Instead, things have been rather busy and I instead I offer up a few minutes entertainment to start your week.  You are heading out to the ocean with a little montage  (all about food) from the documentary  of my Indian Ocean row that my good buddy Dave Cornthwaite is currently editing for me. We hope to release the full length documentary in February when my book 'A Dip in the Ocean' publishes.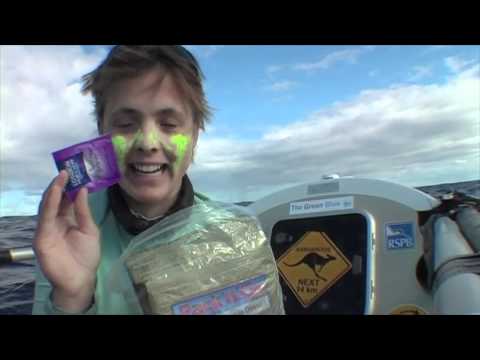 Now, please go and shake 2011 by the scruff of its neck and make it count.
S x
PS The latest post in the Adventurers Blogging Chain by Dave Cornthwaite, hosted by Tim Moss Here
PPS My book ' A Dip in the Ocean' publishes on February 7th. Pre order it  here
PPPS I'm speaking at the London Boatshow this week on Wednesday and Thursday – 11.20am and 4.50 pm respectively. Come along!
PPPPS Very cool event in Cambridge on 29th January – I'm doing a bit of speaking as part of a world music concert by Dowsing for Sound. Order tickets here