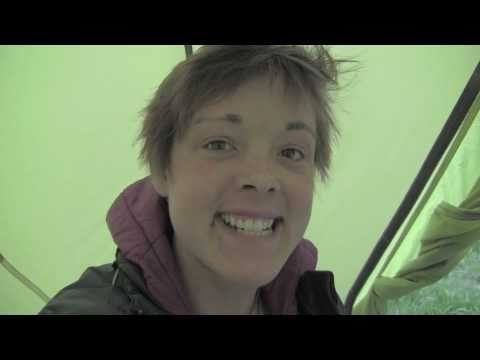 After being wiped out by food poisoning the week before last in the Czech Republic and having taken a few days out to recover, I am super happy to report that I am now back in the groove and feeling good.

Poland
Since I last wrote I have pedalled from Prague to Krakow – completing country number six and heading into my seventh, Poland. That was on Tuesday morning, the day it rained and rained in the south of Poland, leaving me soaked as I twiddled my way up winding roads and over the hills and, surprisingly, no cleaner than before. It all reminded me of North Wales – pretty scenery viewed in varying shades of green and grey, according to the cloud cover. Thankfully on Tuesday morning I woke to a too-hot tent, the sun turning the green tent sides gold and making me smile at the thought of a day under blue skies. It hasn't really stopped shining since, meaning that the days have been long and hot and I have been happiest riding in the cool of dusk. There tend to be fewer cars out then, too, and often lots of wildlife. Deer, spotted woodpecker, buzzards and jays have been my top spots this week – and once again there have been countless lapwing flitting about in the fields, skylarks singing to the world below and yellow hammers and goldfinches racing along the roadsides.

I wheeled down into Krakow in time for lunch today and found a room downtown. I thought I had a great bargain but now I realise why it was so cheap – bars line the surrounding streets. Needless to say, I wish I had brought ear plugs. Rest days have shown me that they are not really rest days at all – they are just a chance to straighten out, clean up, scrub down and tick off the to do list. Today's list included catching up with the Royal Wedding too and I sat and watched proudly, with a few tears, a little bit of the Polish coverage. In all of the countries I have been through this last month, people have talked about the wedding. One chap asked 'So are you looking for the marriage of your prince?' and for a moment I took this as being some kind of pick up, before I twigged the meaning. I chuckled at my muppetry.
Mile munching
Depending on what time I get to sleep I hope to have a look around Krakow tomorrow morning before pedalling East again after lunch. I hope to be passing through L'Viv, Ukraine, by Monday – a new country bringing with it another unknown language, another currency and a whole new set of road signs (my prinicipal source of language tuition). I will have the cereomonial deflagging and reflagging of Hercules (he gets a new national flag for each country pedalled) and a new map for my map case, too, pedalled all the way from London. There is something very satisfying about unfolding a new map and stowing away the old one, with a whole country traversed. I have cut out the Northern Hemisphere of my world map too and am enjoying ticking off the countries as I go. I'm always sure to leave most of it folded up though – to look at the whole thing is mind boggling and a bit daunting. This is all about one day at a time and one country, mile by mile.
All that said and done, I am keen to push on and crack out some big mile days now – there is a long way to pedal before the weather turns in Far Eastern Russia and I need to make sure Hercules and I arrive on time. So far I have pedalled between 45 and 160 km a day (or nothing on the rest/recovery days) – that distance varying according to the weather, terrain, chores and how I've been feeling. Now that I am back to fitness I want to sit nearer the higher end of this range and tally up the next couple of countries as quickly as I can. Not quite in the league of Mark, James and Vin – (the round-the-world record holders of recent years) perhaps but enough to make me sweat and sleep soundly each night knowing that there was nothing more I could have done that day to make ground East. In an ideal world there would be a bit more time to stop and look at all that's around me – a few days here and there to take it all in – but for now, that's not an option so it's onwards my friends and looking and listening from the saddle of Hercules… Onwards and Eastwards.
For now, both Hercules and I send our love.
Until Ukraine,
Sarah and Hercules x