This has nothing to do with my current snowy biking but I am confident, dear reader, that you won't mind the diversion for it is all about a film that you want to see, even if you don't yet know that you want to see it. You might even not know that it exists yet. Read all about it, then watch it – there's even a bit about a naked lady getting chased by a bear.
The 101 days of kayaking along the Aleutian chain and up the Alaskan mainland to the nearest road last year were some of my favourite expedition days ever. Charged with adrenaline, set against a dramatic volcanic landscape and with a cast of characters as varied as native people through to honking, farting sea lions, inquisitive grizzly bears and shared with my good pal and big sister figure Justine – it was a journey that tested me in so many ways and helped me to grow in so many others.
Justine is not only a kick-ass sea kayaker. She is also a brilliant film-maker and her recently released film of our journey 'Kayaking the Aleutians' has already scooped at least three awards. You need to watch it – especially if you like beautiful places, amazing wildlife, a splash of nudity and a good story. It has been touted as her best film yet and I think I agree. It is raw, wild, honest and I think does justice to the place we travelled through, the people who call those lands home, and the friendship between us, complete with its challenges. Someone described it as portraying 'excellently the challenges we faced together and between us' and I think that sums it up very well indeed. That many miles in such uncertain waters are going to be challenging to mind, body and relationships – especially when one half of the double is way less experienced in a kayak than the other. The fact we made it, together, and still pals and smiling, is testimony to our friendship, teamwork, stubbornness and the fact that Justine was willing to embark on it with me. I couldn't have done it without her. Though I could have done without the tent farts. Justine, my friend, you rock and so does your film of our jaunt.
Here is the trailer: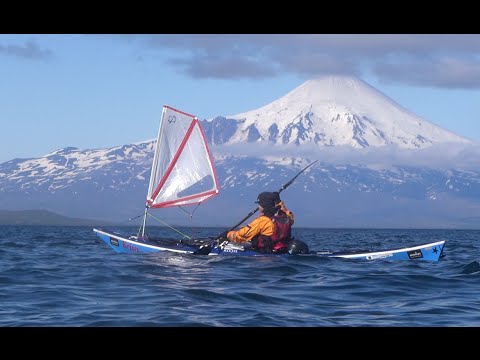 You can order the film through Justine's website here: www.cackletv.com
You can also see if she will be touring near you with the film at public showings. If you meet her, ask her about the 'I'm a little teapot' dance and rib her about how she could only get into Cambridge 🙂 She'll know who sent you.
For those of you wondering about an overall film of my L2L journey… The plan is to produce a film post-expedition – format yet to be decided. Jen Crook is currently wading through all the years and hours of footage, having a mini-expedition at her computer.
In other news, I am now back on the bike and riding strong, though in fact today I am waiting out an ice storm which has in fact not turned up as forecast. Stay? Go? Stay? Go? If only I hadn't checked the forecast….
Until next time,
Sarah and Hercules (in Pennsylvania)